Idle Quarters - Kolmanskop
The Idle Quarters collection takes a unique look at the presence of eerie abandoned spaces such as old ghost houses like Kolmanskop.  These 'photographic relief dioramas' create a three dimensional visual effect that draws you into the image and makes a stronger connection of presence and reality of the subject.
The traditional two dimensional media of photography portrays a realistic interpretation of a scene but I push this form of reality even further by creating relief dioramas from his photographs. Much of the artwork is made from bending and joining cut out prints of the walls, floor and doors at an angle. With added details around hidden corners it is possible to see more of the scene from an angle, further enhancing the interaction with the viewer and creating a unique representation of what the rooms of the houses looked like.
To create an unexpected twist to the static medium of photography and bring activity to the dioramas atmosphere, I include some kind of altering light changes within a few of the artworks, some even have moving parts. These effects happen infrequently and unexpectedly to create a feeling of anticipation, surrealism, and presence. 
When I first got to the old ghost town of Kolmanskop I discarded any preconceived ideas and plans I had in the way I would photograph it.  I immediately felt an atmosphere and presence when I stepped in the first house and knew I had to capture more than a composition, I wanted people to be in the labyrinth of rooms with me, I wanted to capture a space rather than an image.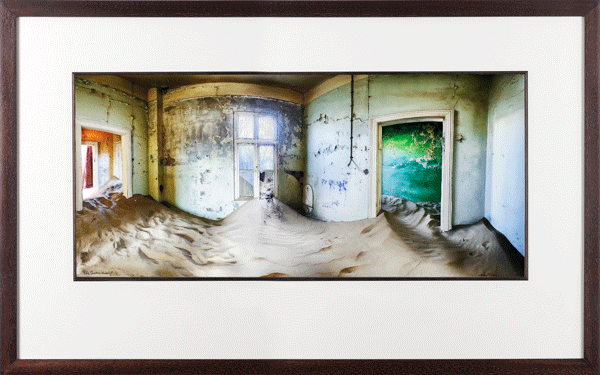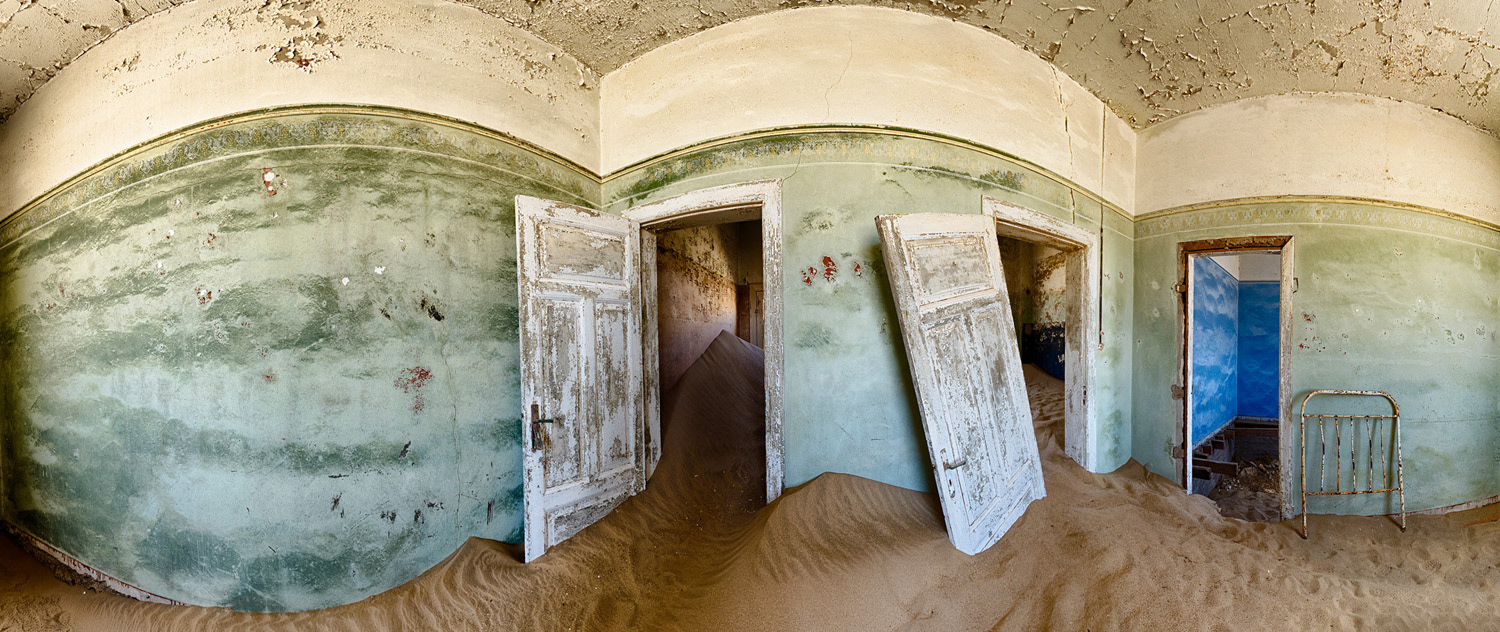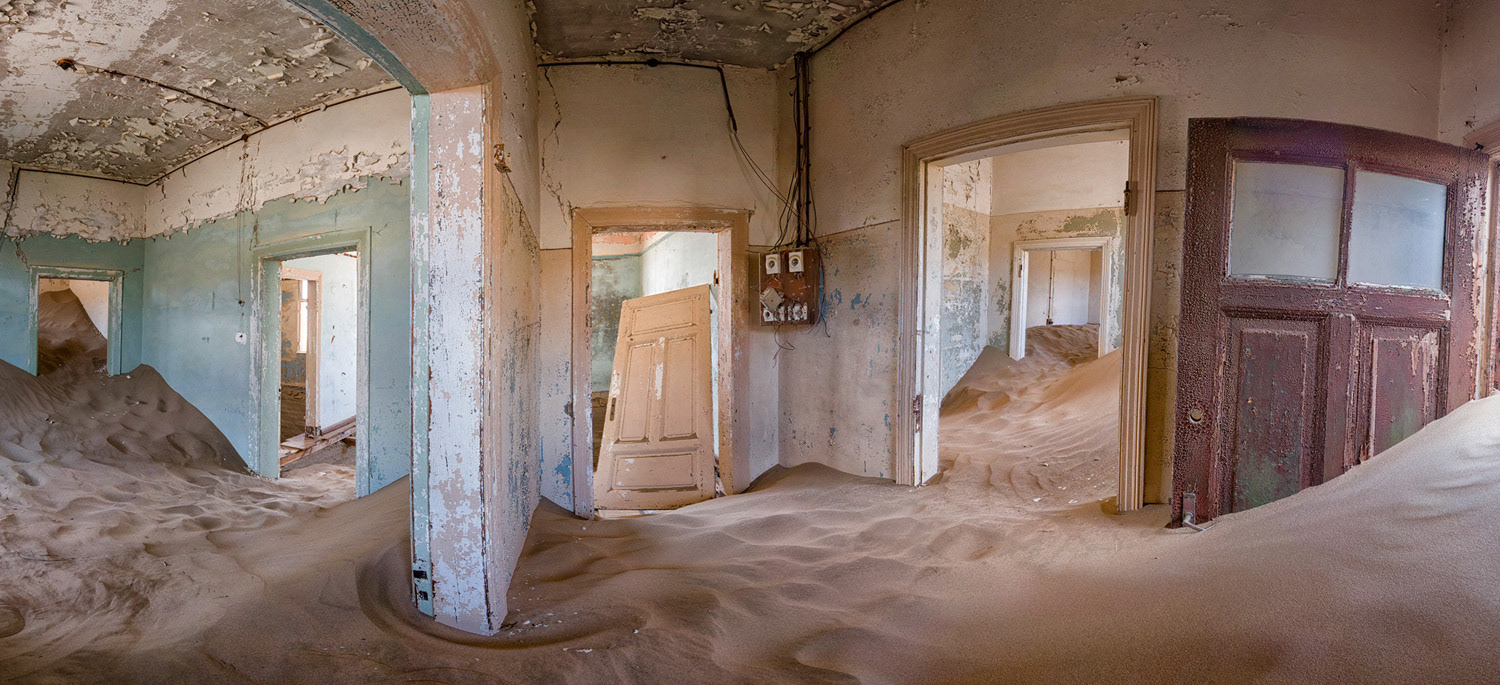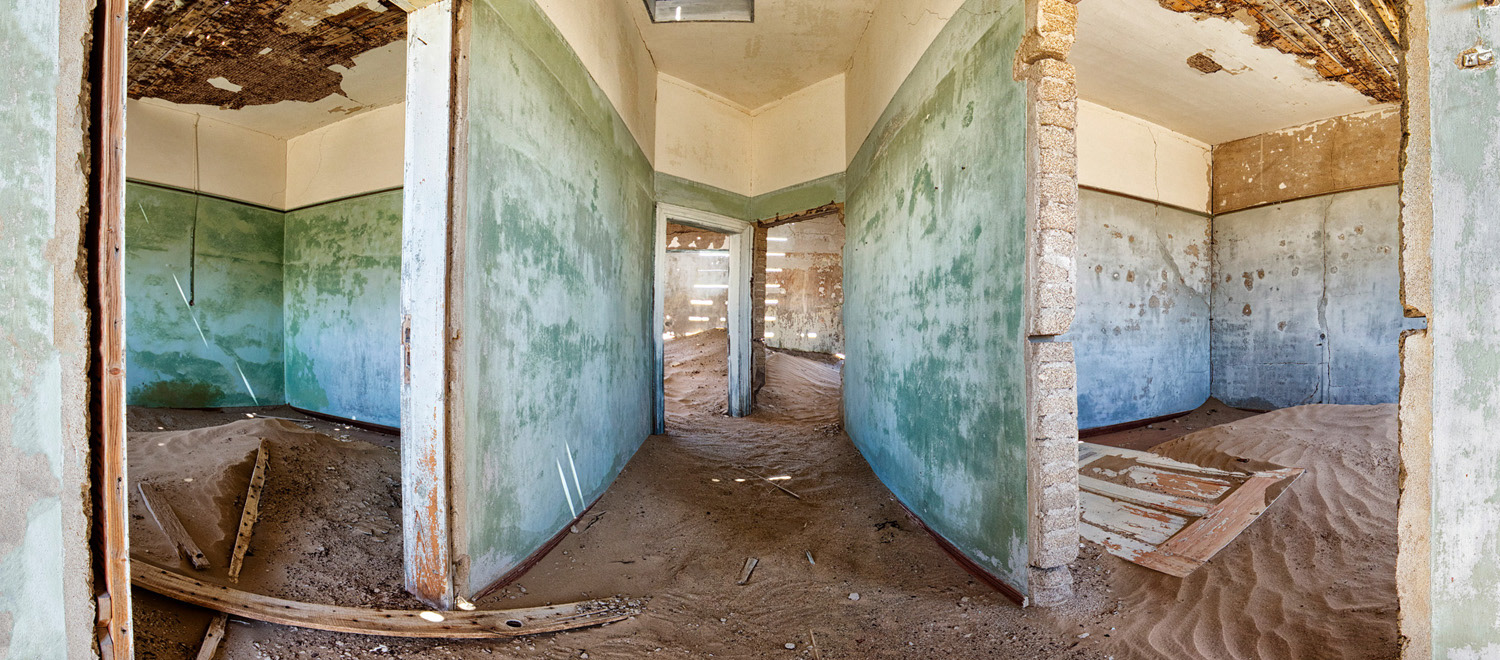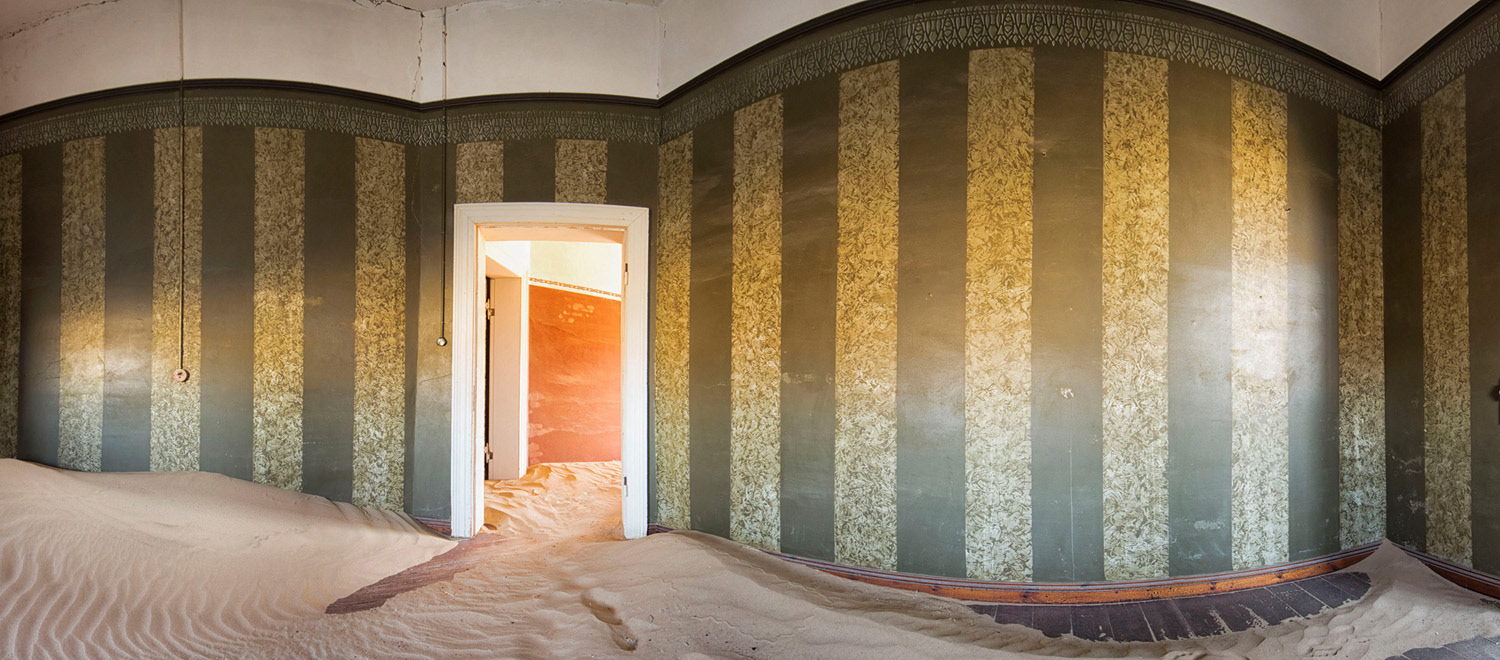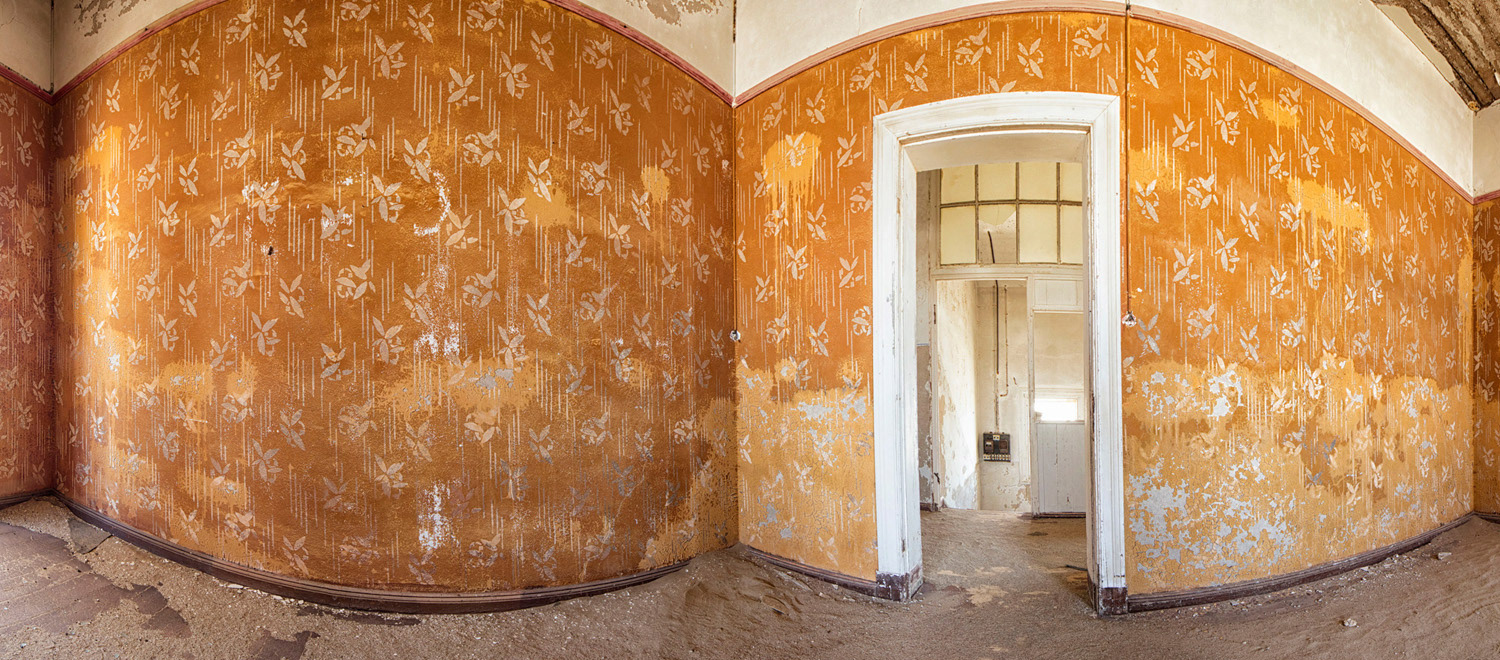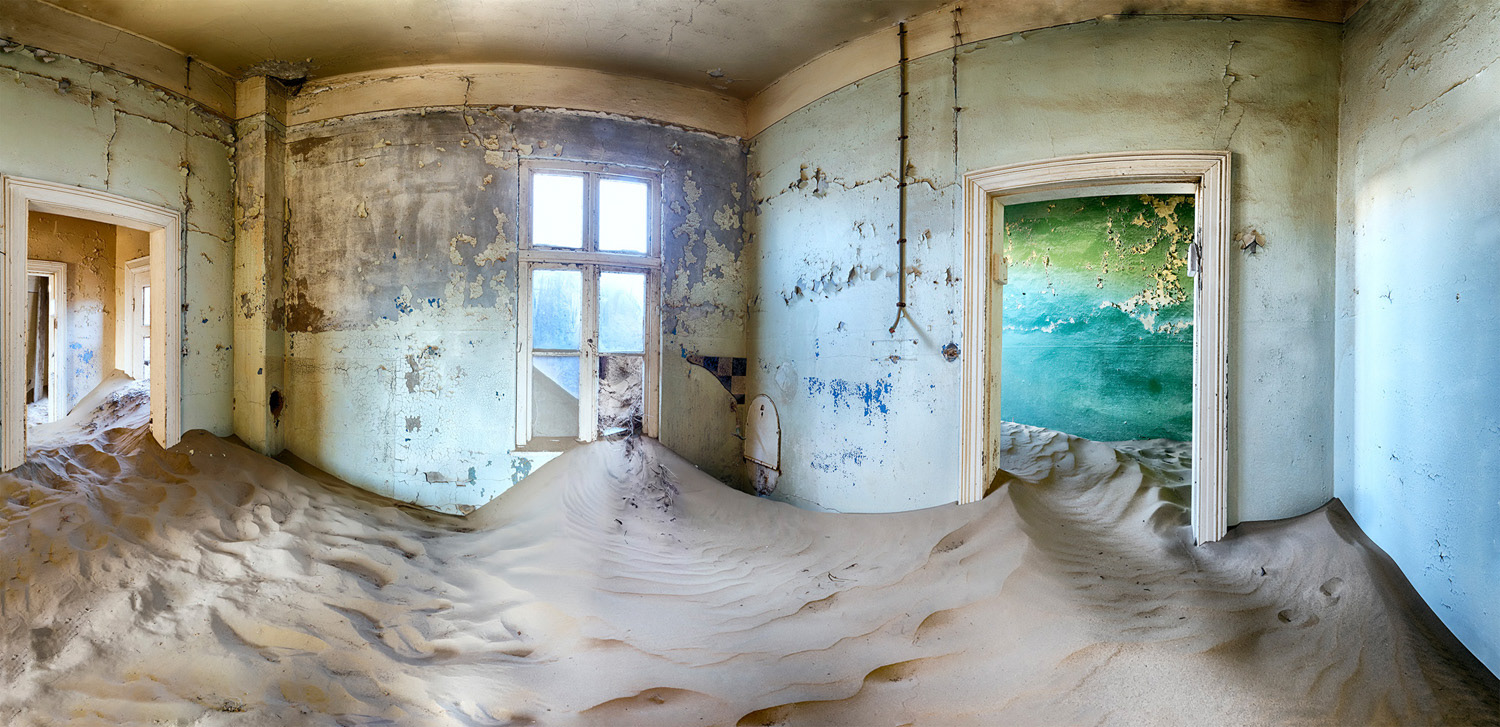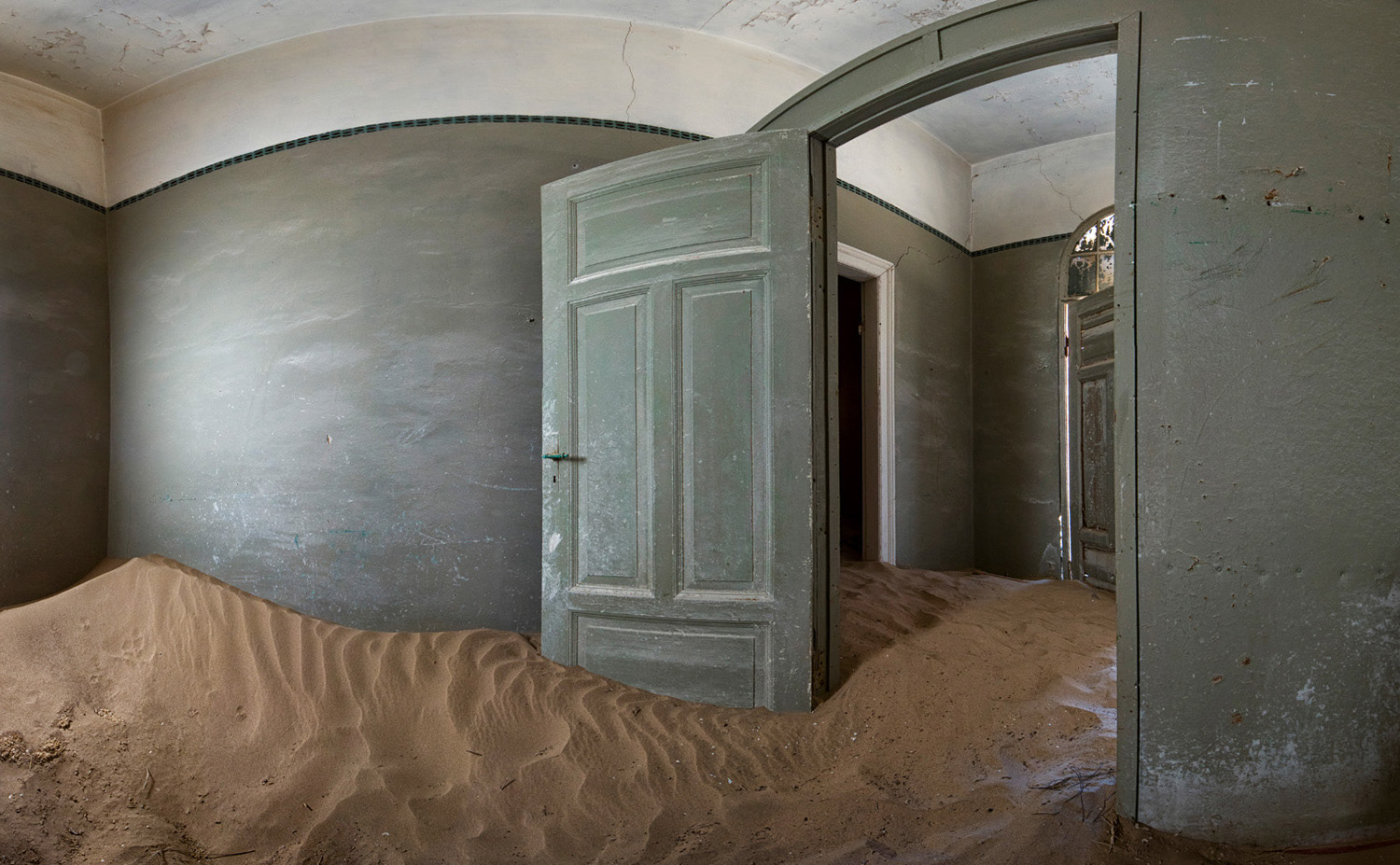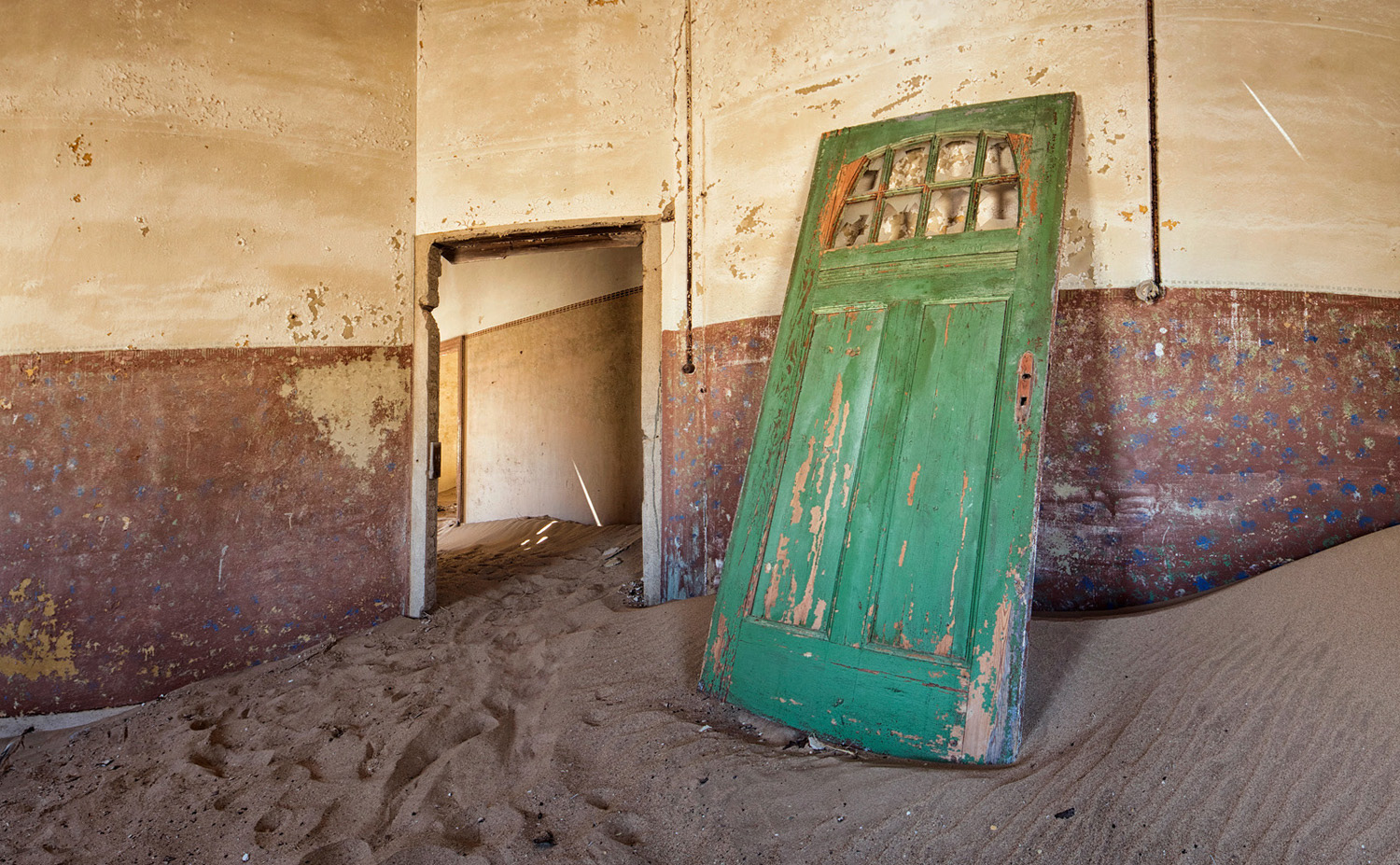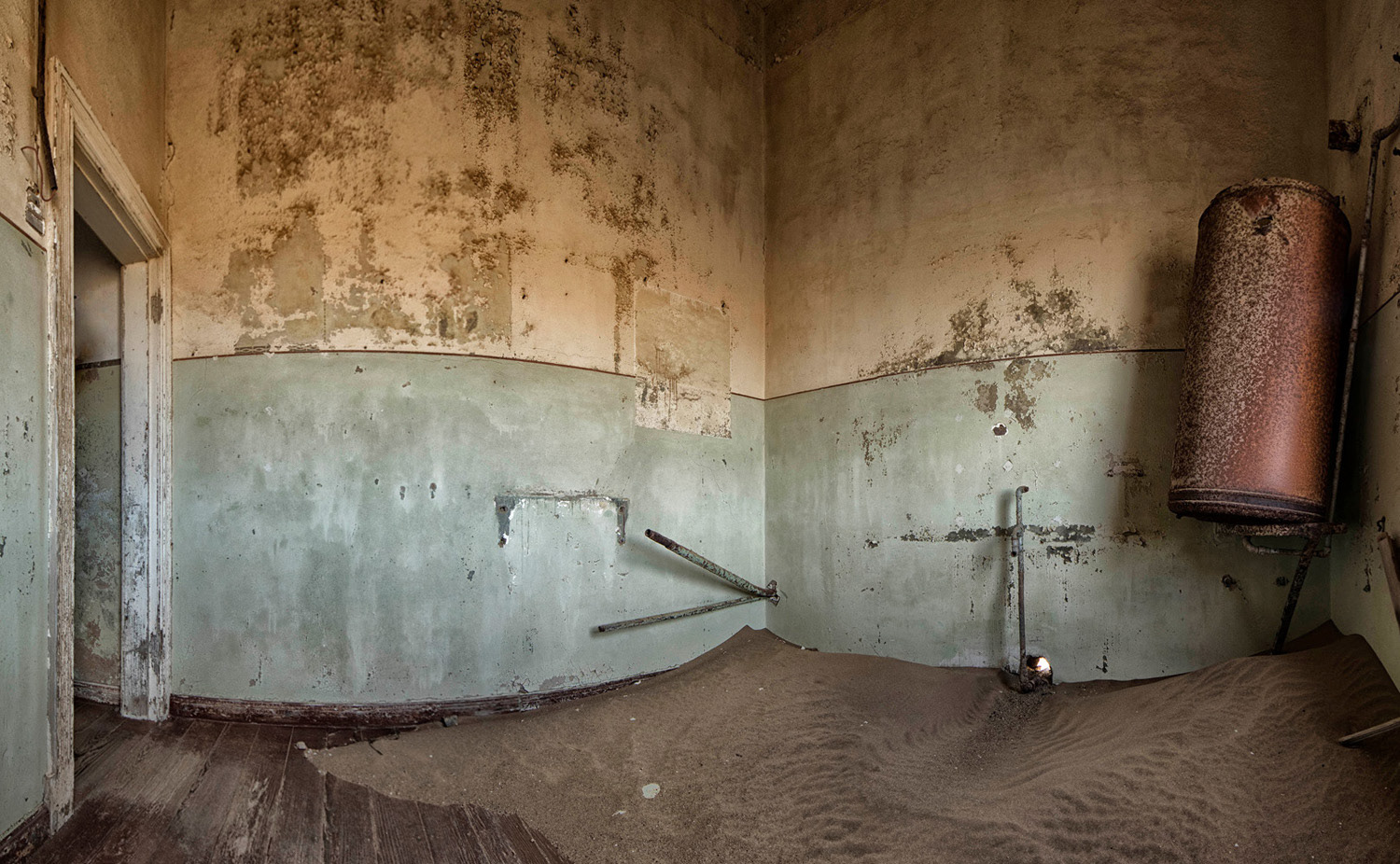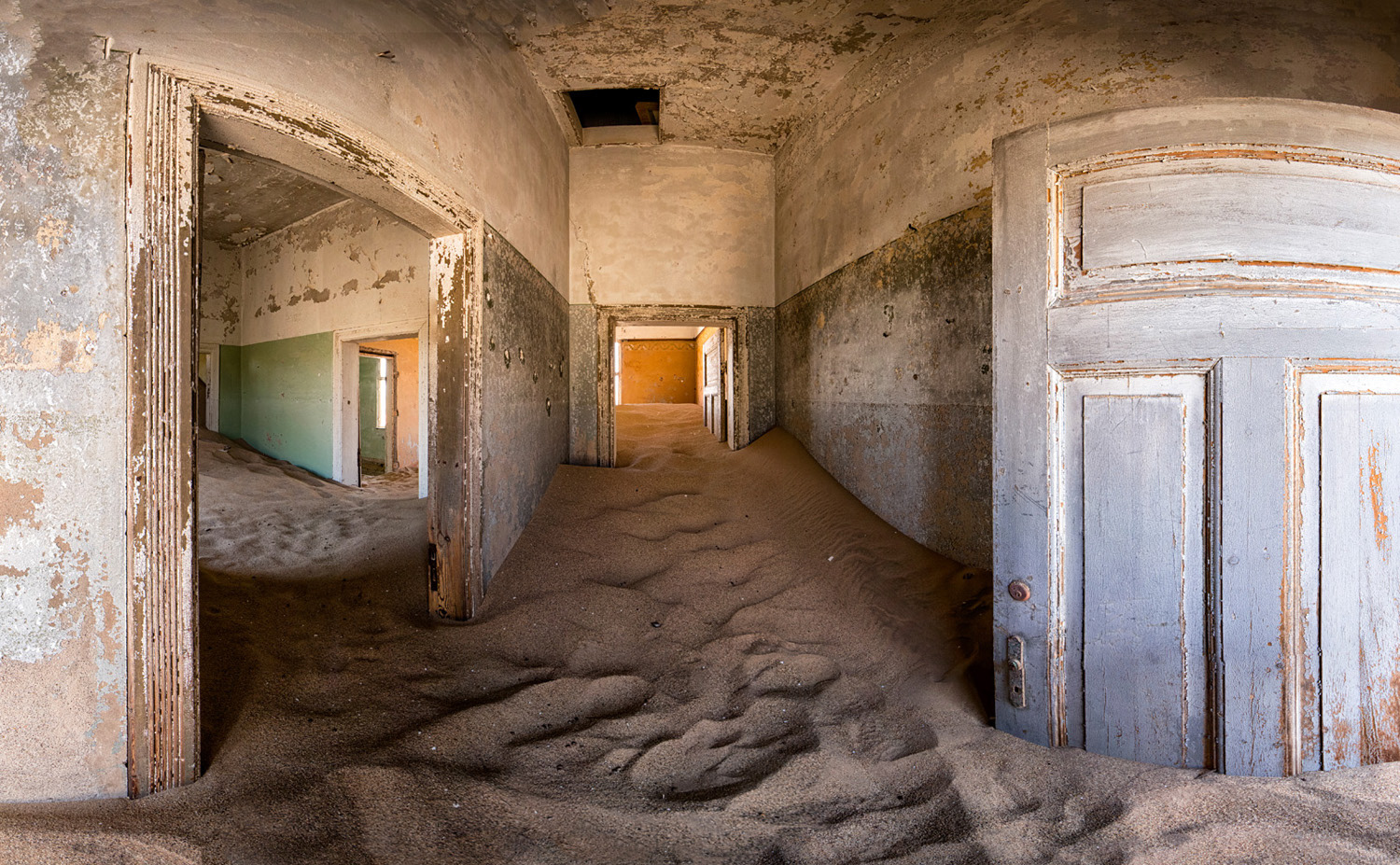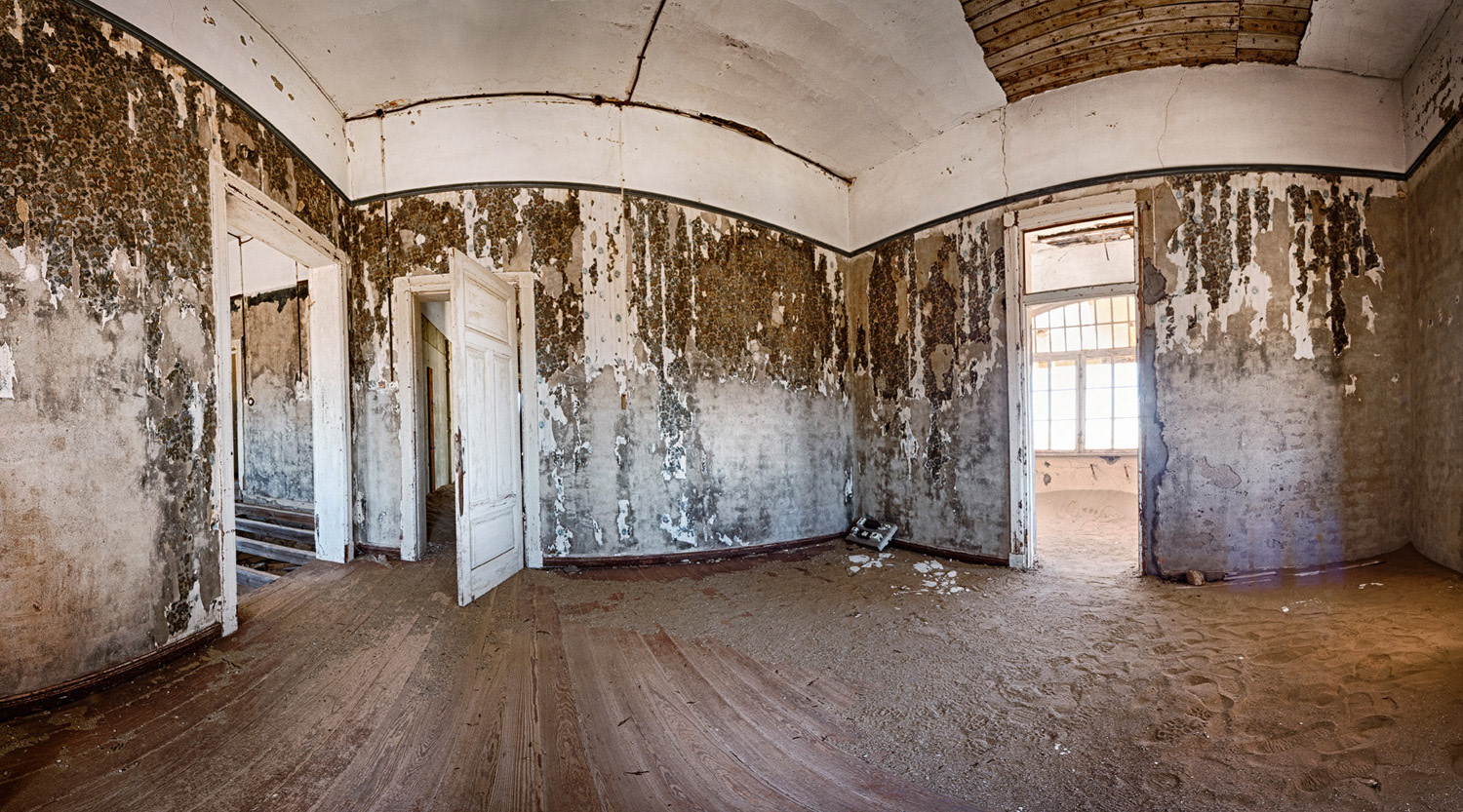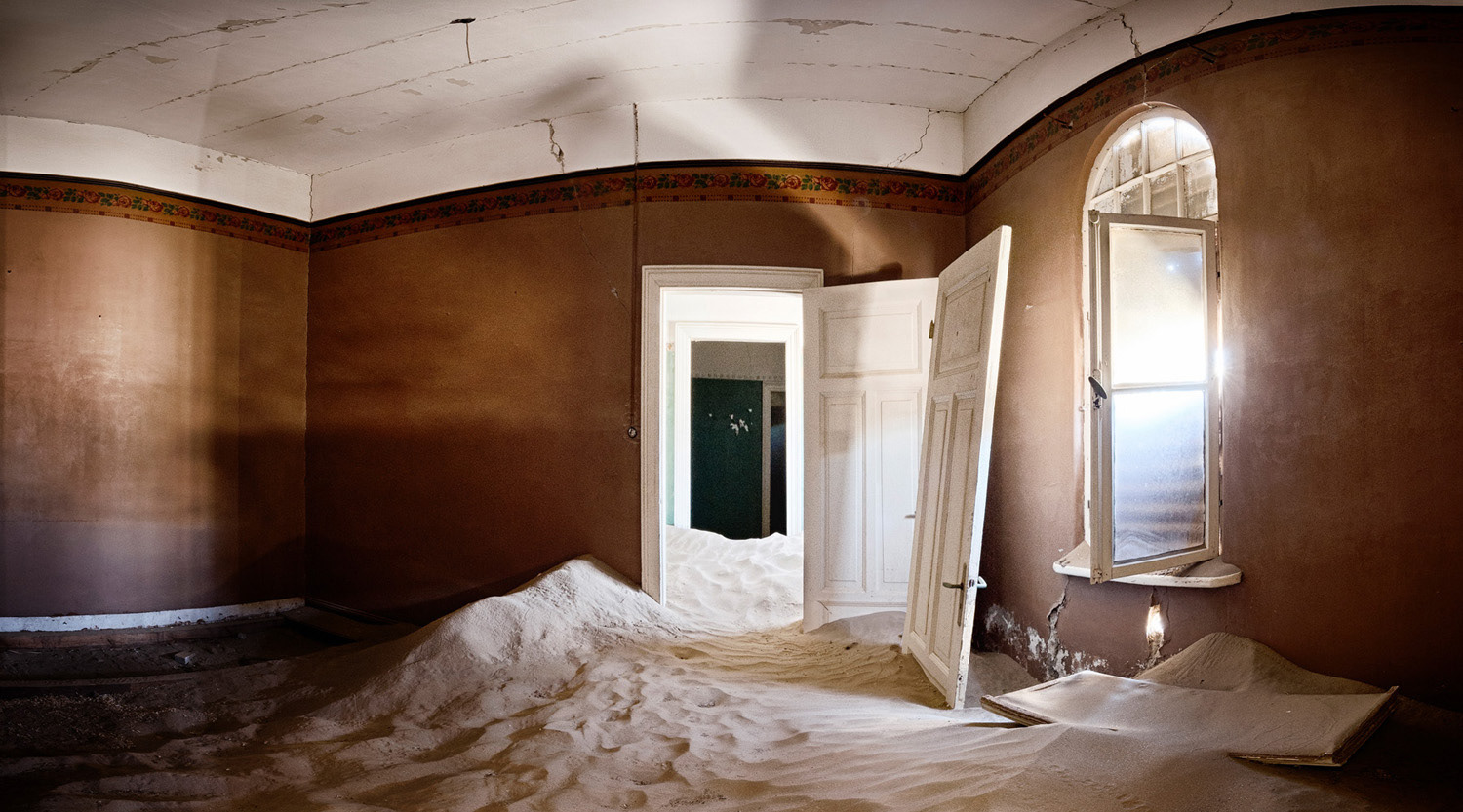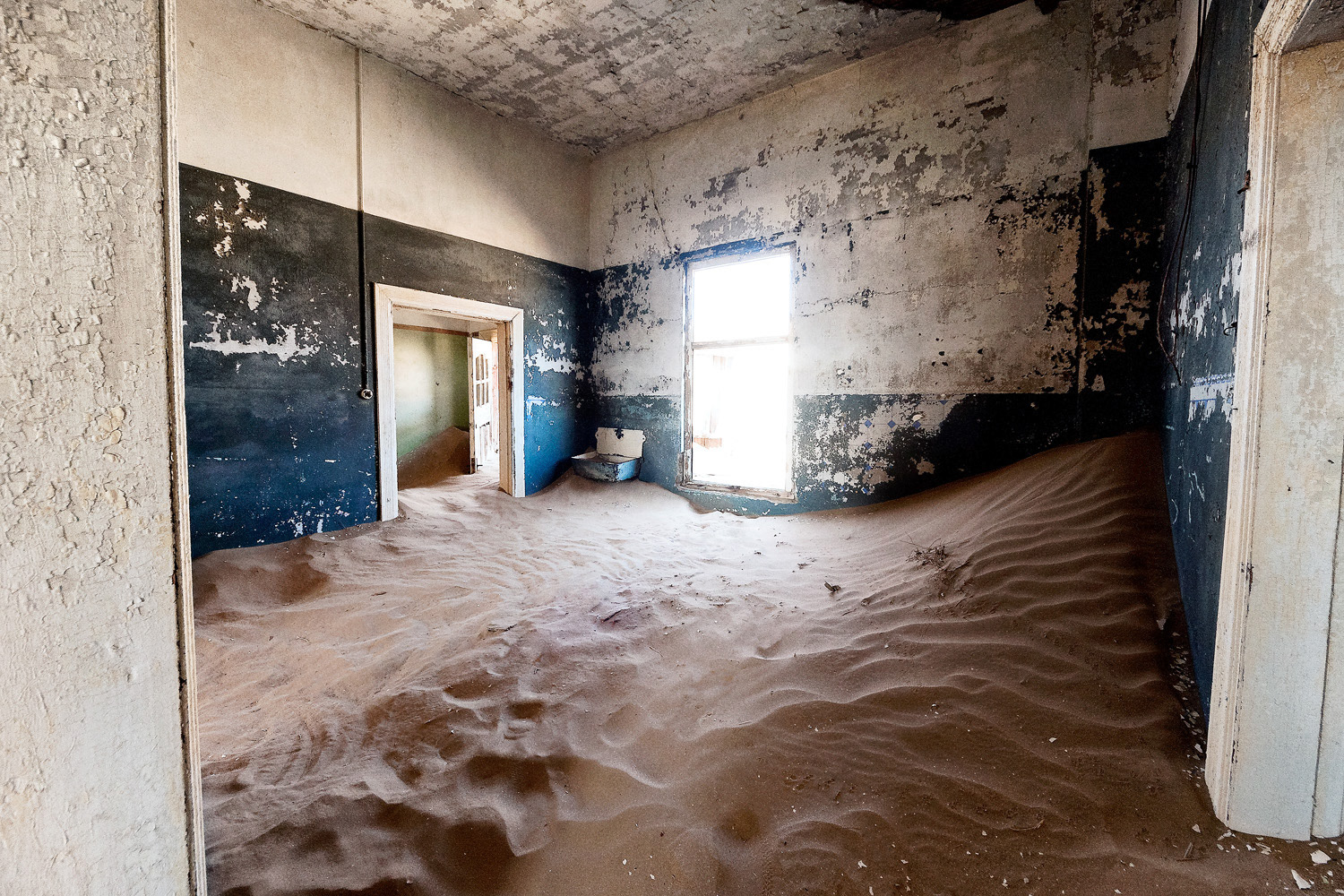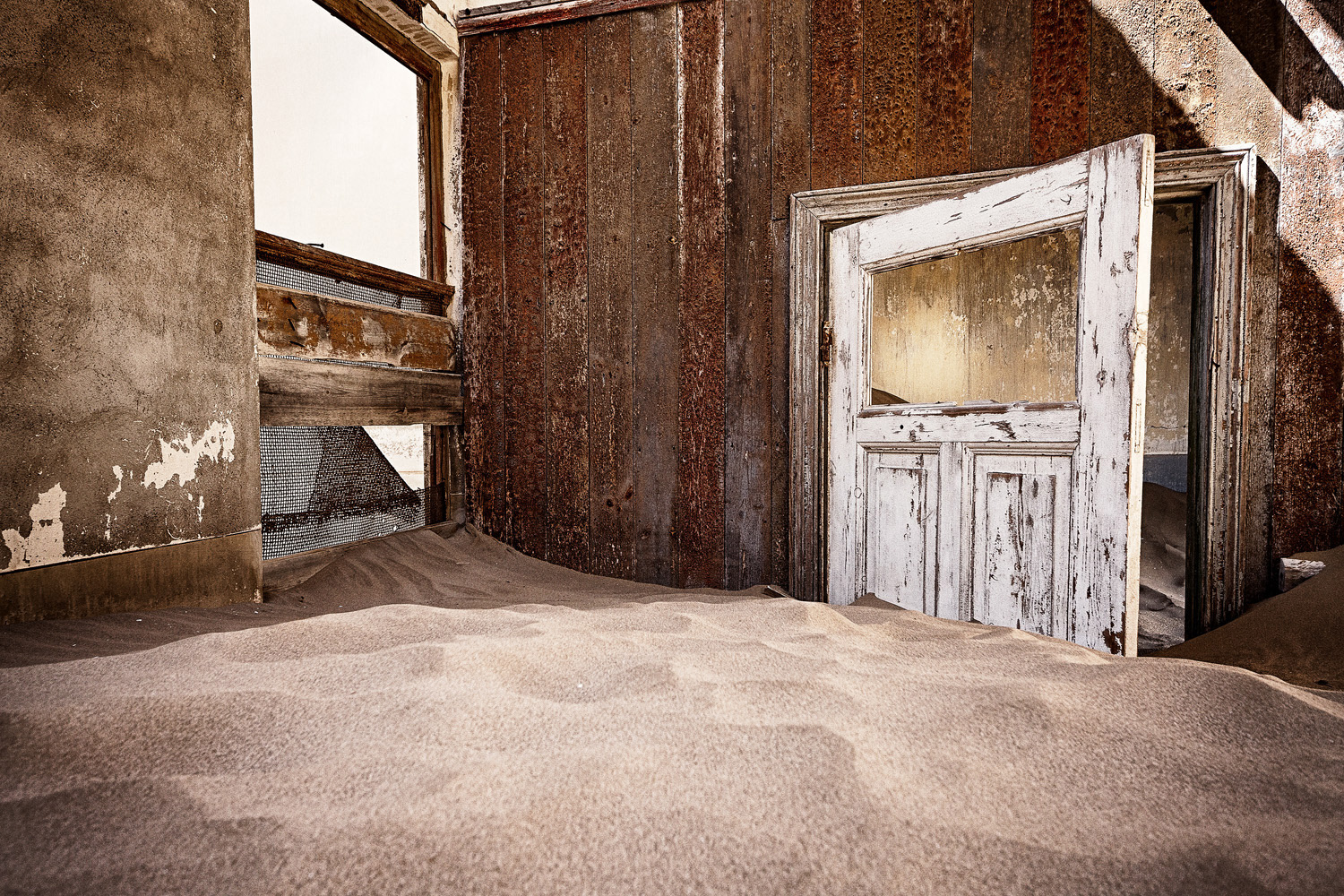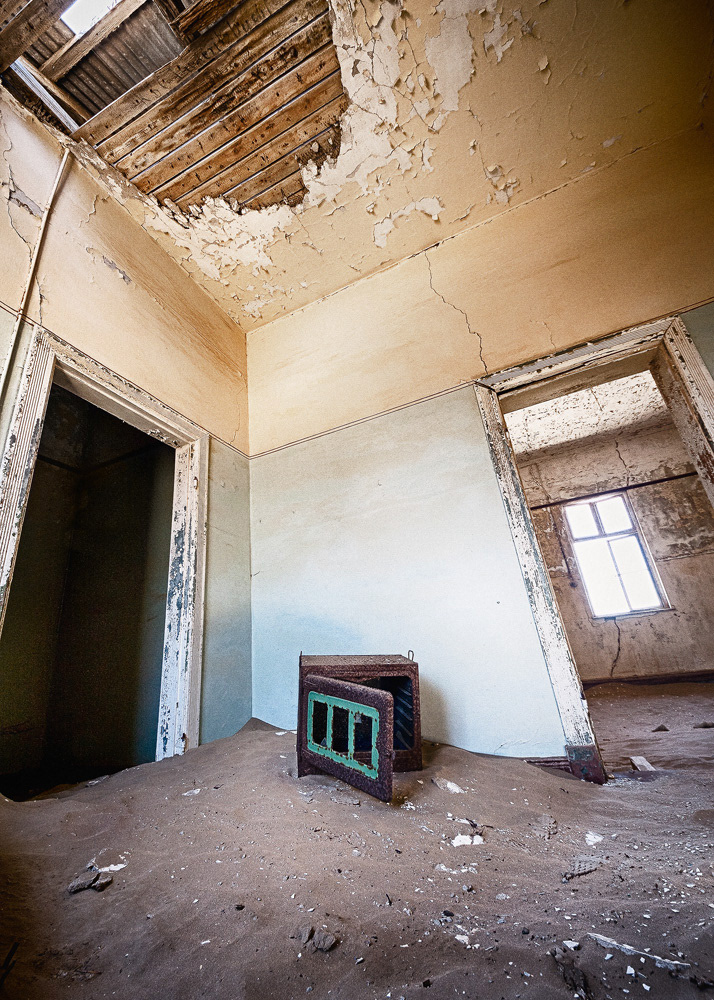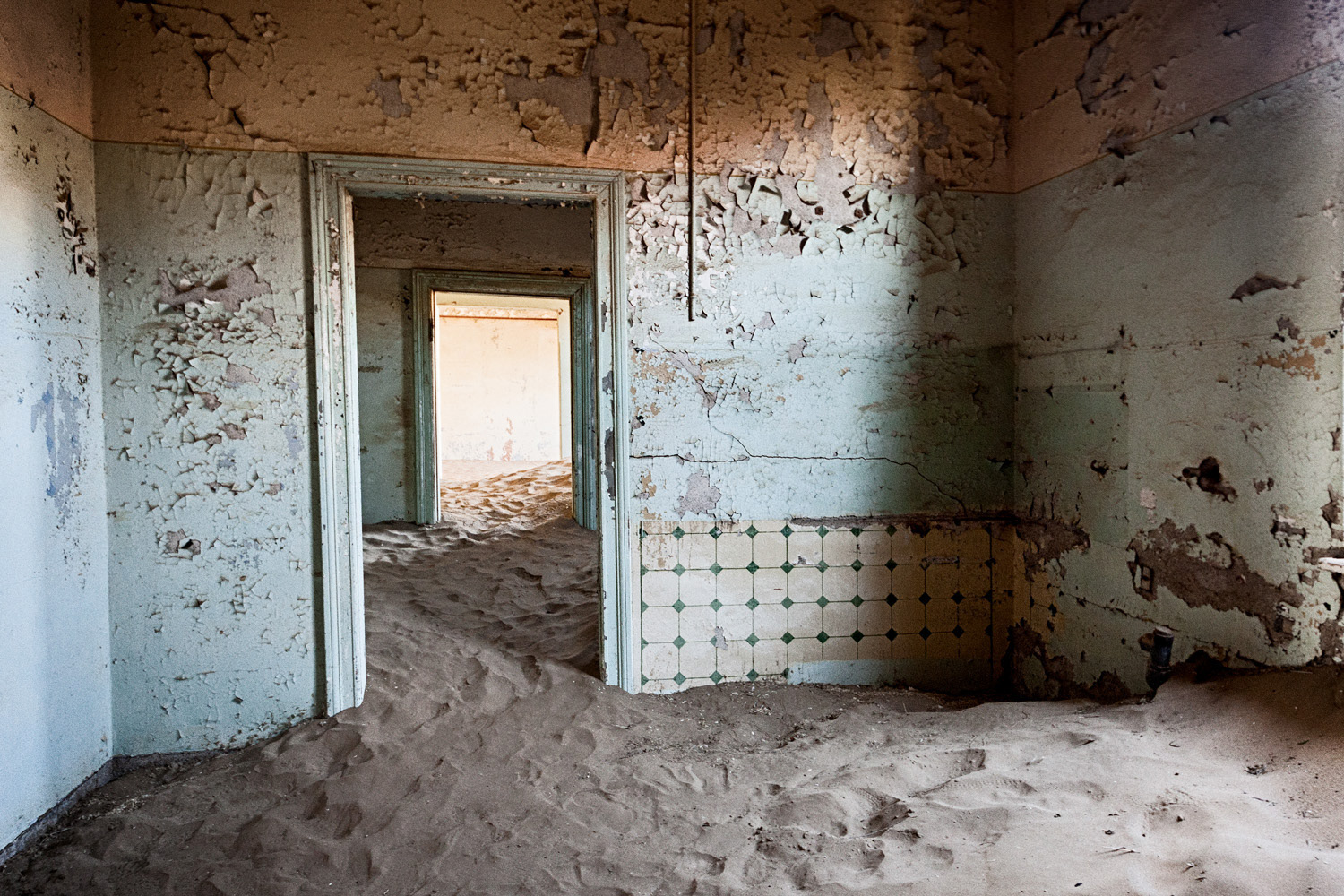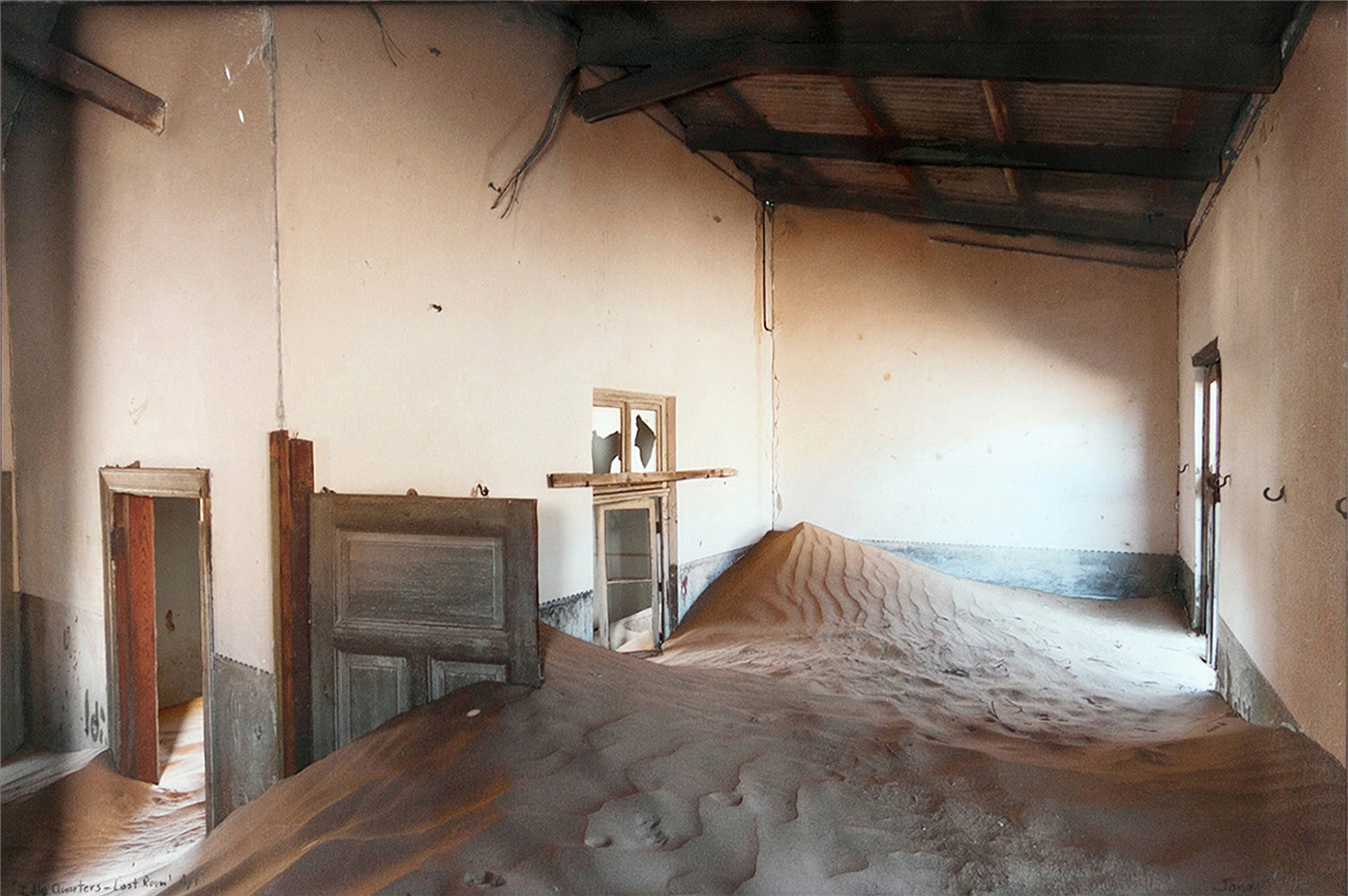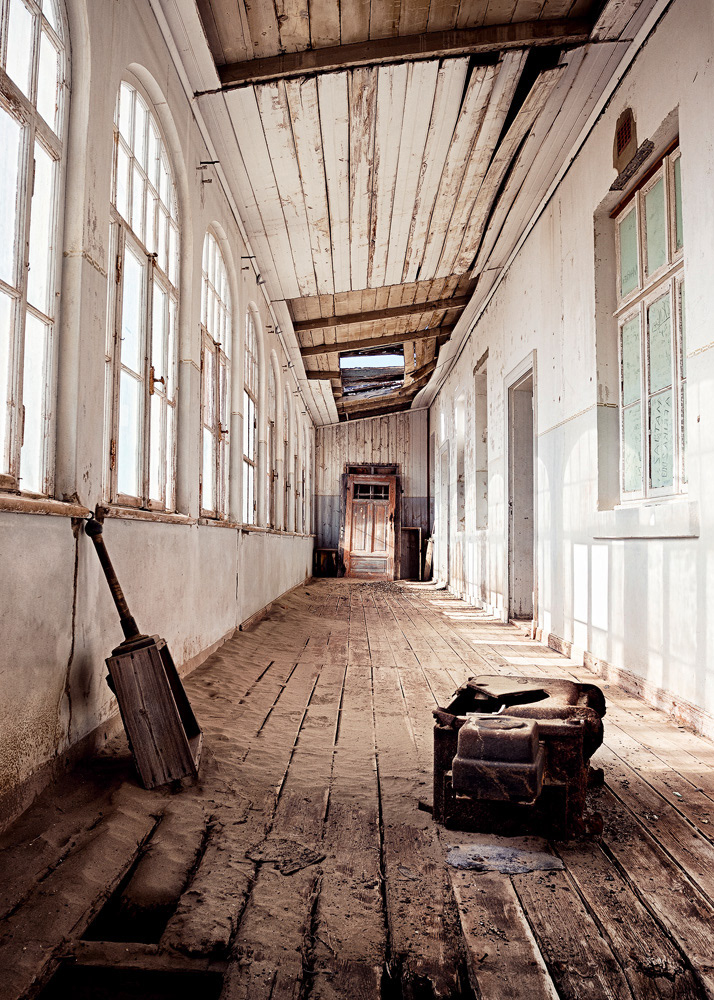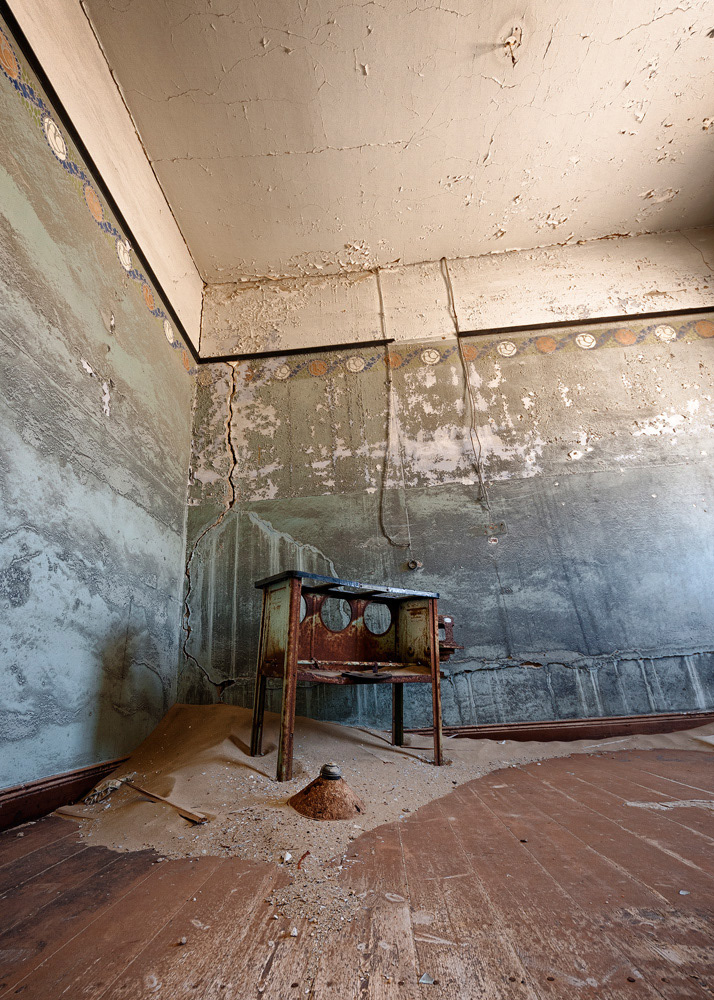 Idle Quarters - 
Blue Room; Sunken Room; Corner Stove
Doorways; Lost Room; Passage; Sand Pile
7 editions & 1 AP
Landscape - 30(h) x 45(w) cm
Portrait 30 (h)x 20(w) cm
_______________________________________________________________________________________
More about the town of Kolmanskop
Kolmanskop is Namibia's  famous ghost town, and is situated in the Sperrgebiet, (forbidden territory) a few kilometers inland from the port of Luderitz. In 1908, the railway worker Zacharias Lewala found a sparkling stone amongst the sand he was shoveling away from the railway line, near Kolmanskop. His supervisor August Stauch, was convinced it was a diamond and when this was confirmed, the news spread like wildfire, sparking a huge, frantic diamond rush and causing fortune hunters to converge in droves on Kolmanskop.
The town soon developed, becoming a bustling little centre and providing shelter for workers from the harsh environment of the Namib Desert. Large, elegant houses were built and it soon resembled a German town, complete with an impressive array of amenities including; a hospital, ballroom, power station, school, 4-lane skittle alley, theatre and sports hall, casino, ice factory and the first x-ray station in the southern hemisphere. Fresh meat could be purchased at the butcher's, there was a bakery, furniture factory, a public playground and even a swimming pool! At the time, there was also a railway line to Luderitz.
The development of Kolmanskop reached its pinnacle in the 1920's, but the town declined after World War 1, when diamond prices crashed. In spite of, or probably because of, the isolation and bleakness of the surrounding desert, Kolmanskop developed into a lively little haven of German culture, offering entertainment and recreation to suit the requirements of the affluent colonialists.
Unfortunately for Kolmanskop and its inhabitants, richer diamond deposits were discovered further south, and operations were moved to Oranjemund. Within a span of 40 years Kolmanskop lived, flourished and died. Today the ghost town's crumbling ruins bear little resemblance to its former glory. The stately homes have been nearly demolished by the wind, and are gradually becoming enveloped by encroaching sand dunes. In 1980, the mining company De Beers, restored a number of buildings, and established and interesting museum.
SEVEN EDITION WORKS WITH ONE ARTIST PROOF
These
are an edition of seven works with one artist proof.

MEDIUM: Giclee prints, FomeCor, water colour,  (LED lights, wiring, switch)
ARTWORK SIZES: vary

SINGLE EDITION WORKS WITH ONE ARTIST PROOF
These
 works
 are single one-off works with one artist proof.
The single edition work is more of an instillation piece with complex mechanical movements and lighting all controlled by a sensor build into the frame.
While the artist proof does not contain any electronics
ARTIST PROOF
MEDIUM: Giclee prints, FomeCor, water colour
ARTWORK SIZES:
90cm x 33cm x 5.5cm or 77cm x 46cm x 5.5cm

SINGLE EDITIONS
MEDIUM: Giclee prints, FomeCor, water colour, various electronics and mechanics  (LED lights, wiring, sensors, switches, motor, PCB, brass, pulleys  belts, bearings, springs, gears, lead weights, wire)
ARTWORK SIZES:
130cm x 44cm x 7.5cm  or 108cm x 53cm x 7.5cm